Visit Fukushima


Fukushima is located in the north-east region of Japan and is approximately 200km from Tokyo. It is called the "Kingdom of Choirs" in Japan, which has a big population of music fans and award-winning choirs.

Along with its unique music friendly culture, there you can find abundant natural beauty and traditional samurai culture, which is still being handed down over the generations. You can enjoy renowned hot springs, historical samurai sites, golf and even winter sports in splendid mountain resorts before/after the competition.

Anyone looking for friendship with true music lovers and real experiences of Japan must not fail to visit Fukushima.

 Aizu-Wakamatsu, which used to be a castle town during the Edo Period(1603-1867)

 Fukushima is an "onsen(hot spring)" kingdom with 139 gushing hot springs.






■ Access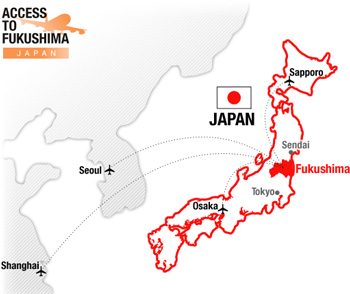 ・Seoul     
   Approx. 2hr 10min
 ・Shanghai  
   Approx. 2hr 50min
 ・Osaka    
   Approx. 1hr 15min
 ・Sapporo  
   Approx. 1hr 5min


■From Fukushima Airport

Approx. 75min to the hotel in Fukushima city by complimentary taxi


■From Narita Airport

Route 1

・Narita Airport - Tokyo Station
 Approx.1hr -1hr 30min by Express Train "Narita Express"

・Tokyo Station - Fukushima Station
 Approx.1hr.40min by Express Train "Tohoku Shinkansen"

Route 2

・Narita Airport - Keisei Ueno Station
 Approx.45min - 1hr 50min by Keisei Railway trains

・Keisei Ueno Station - Tokyo Station
 Approx. 5min on foot

・Tokyo Station - Fukushima Station
 Approx.1hr.40min by Express Train "Tohoku Shinkansen"

Route 3

・Narita Airport - Fukushima Station
 Approx. 5hrs 20min by Highway Bus (only 2 services a day)






■ Useful Sites

・Sights in Fukushima, Tourist Information of Fukushima Prefecture


・Multilingual Tourist Brochures


・Fukushima Prefectural Government, International Affairs Division






Fukushima Prefecture


Sights in Fukushima


Travel Brochures


Weather in Fukushima