Singing draws people together.
Thank you for your support and encouragement from all over the World.

After March 11, a number of choirs in Japan sang at evacuation centers, and held a concert in their hometown to raise money for disaster-hit areas.

Now we are sure music has power to get people together and bring about hope and encouragement to people.


We would like to tell how people were dedicated to support us, and say "Thank you" to all in the Fukushima Vocal Ensemble Competition (FVEC).
■ Thank you for your support !
We graciously thank all of the companies and choirs for having made a donation to restart the FVEC. The competition was due to start one week before the quake hit. FVEC 2012 was held to share joy of singing again with people all around the world.
Donors:
THE DAITO BANK,LTD
Pana Musica Co., Ltd.
Fukushima Shoko Kaikan
Kobun Junior High School Choir
Nago Boys and Girls Choir
Allegro Music Company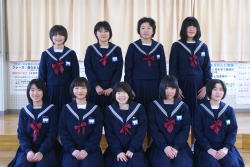 Kobun Junior High School Choir
Kobun Junior High School Choir, who would have participated in the previous competition, made a donation, heading a campaign at their school entrance and the school concert. They also gave us the very touching letters. Thank you!
■ Thank you for the messages!

The Big Message
from Afumi Vocal Ensemble

Various message cards
from participants

Messages from Sakuradai JHS Choir

Now your message cards can be seen in the Fukushim prefectural government hall.